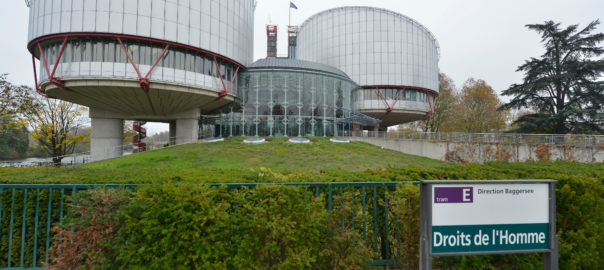 Over the course of the years, Catalonia's push for independence, which came to a tipping point during the 2017 referendum, has led to countless judicial cases in Spanish courts involving everyone from top politicians to grassroots activists. As Spain is party and judge at the same time, Catalonia's independence movement is aware that little justice is to be found in Spain, but it can only be achieved in Europe. In order to do so, Spanish courts, including the Constitutional Court, must first hear the appeals.
Once a ruling can no longer be appealed at the state level, the case can be brought before the European Court of Human Rights. With its headquarters in Strasbourg, France, the ECHR depends on the Council of Europe, which unlike the EU is not a political and economic union, but the continent's leading human rights organization. The role of the Strasbourg court is to oversee the implementation of the European Convention on Human Rights, which Spain is a party to, thereby recognizing the ECHR's legitimacy as the final court of appeal.
Here's an updated list with the most relevant cases linked to the Catalan independence movement which are being heard (or are expected to be heard) by judges in Strasbourg.
Sedition conviction for nine Catalan leaders
Of all the judicial cases stemming from the independence movement, none has been more consequential than the trial of the Catalan politicians and activists that led the 2017 push to hold a referendum. Nine people, including the former members of the Catalan government, were convicted of sedition, a severe and extremely rare criminal offense. They were sentenced to serve between 9 to 13 years in prison. Last April, Spain's Constitutional Court dismissed the first appeal from one of the convicted leaders, former minister Jordi Turull. He is expected to take his case before the Strasbourg court in the coming weeks.
Pre-trial imprisonment of politicians and activists
Imprisoned for their role in the 2017 referendum, pro-independence leaders faced a lengthy pre-trial detention before being convicted of sedition in the fall of 2019. During this time, they consider that their rights were repeatedly undermined by judges' unwillingness to let them free while awaiting trial. The Strasbourg court is currently reviewing appeals from former Catalan vice president Oriol Junqueras, former minister Jordi Turull and the activist turned politician Jordi Sànchez. Junqueras and Sànchez challenged the Supreme Court's refusal to provisionally release them to serve as MPs in the Catalan parliament, after winning their seats in an election. Turull has taken the Constitutional Court's decision to greenlight his preemptive imprisonment to Strasbourg.
Referendum voters take on police charges
On the 1st of October of 2017, over two million Catalans cast their ballots in a referendum on independence. The vote was deemed unconstitutional by Spanish courts, and thousands of Spanish police officers were deployed to close polling stations and seize ballot boxes, often cracking down on voters themselves. More than one thousand voters were injured. Two of them, from Bages county in central Catalonia, asked a court in Barcelona to investigate the police operation, but were left unsatisfied. They took Spain to the Human Rights court for undermining their right to a fair trial for failing to investigate police charges and violating other fundamental rights like the freedom of assembly, expression, and freedom from inhuman or degrading treatment.
Parliament motions blocked by courts
In November 2019, the Catalan Parliament passed a motion in favor of self-determination and against the Spanish monarchy, which Spain's Constitutional Court later annulled and which eventually carried disobedience charges for the speaker of the chamber and members of parliament bureau for allowing the vote. Two former bureau members, Josep Costa and Eusebi Campdebadrós, who are currently serving as MPs for the Junts per Catalunya (JxCAT) party, challenged the Constitutional Court suspension of their decision to authorize the motion, which they claim undermines "freedom of expression and MPs' political rights." JxCat lawmakers have also filed a joint legal challenge under the name 'Artadi et al v.Spain'.
Conservative newspaper reveals list of 'pro-indy' judges
One of the oldest judicial cases relating to the Catalan independence push still pending a decision from the Human Rights Court involves the case of 30 judges whose photos were published by Spanish newspaper 'La Razón' in 2014, presenting them as sympathetic to the independence movement. They took the Spanish state to court over revelation of secrets, alleging that the series of pictures belonged to the national police database. A court in Madrid dismissed the case in 2016, saying it lacked evidence that police officers themselves had leaked the photos. They brought their case to Strasbourg in the April of 2018, accusing Spain of undermining their right to privacy and self-image.
Ajuda VilaWeb
Ajuda la premsa lliure
VilaWeb sempre parla clar, i això molesta. Ho fem perquè sempre ho hem fet, d'ençà del 1995, però també gràcies al fet que la nostra feina com a periodistes és
protegida
pels més de 20.000 lectors que han decidit d'ajudar-nos voluntàriament.
Gràcies a ells podem oferir els nostres continguts en obert per a tothom.
Ens ajudes tu també a ser més forts i arribar a més gent?