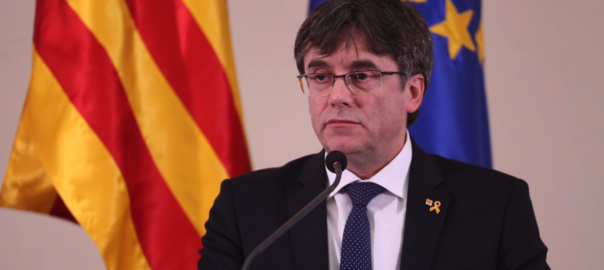 On Wednesday Barcelona daily El Periódico and EFE, a Spanish news wire, were the happy recipients of a leak. They were sent a note issued by the European Parliament's legal bureau. Both media have explained that the report is about the hypothetical candidacy of president Puigdemont in the European elections, which —as a matter of fact— is not mentioned in the document, although it is clearly hinted at. And they both say that he would be unable to become an MEP unless he travelled to Madrid first in order to collect his credentials in person. I have seen the note myself and there are some significant details that you must allow me to explain, since the other news outlets haven't. But before I get to it, I believe that a couple of general observations are in order.
Time will tell what will truly happen, if the Catalan people elect Carles Puigdemont as a member of the European Parliament. But before we get down to examining the facts, we need to realise that the same thing keeps happening time and again. These fabrications always have the same goal: to lob dirt without taking any responsibility for it. By the time Puigdemont is voted in (in a hypothetical future), the effect which the leak aims to achieve (presently) will have been forgotten and nobody will take any responsibility for it. That is the reason why the note in question does not bear a signature or an official letterhead. They seek to influence Puigdemont, to demoralise him, and —above all— to influence the electorate so people will refrain from voting for him, or to make them believe that Puigdemont is lying to them. To judge by his reaction on Twitter, it doesn't look as if the pressure has had any effect on the Catalan president so far.
The document in question is a four-page advisory note requested by Antonio Tajani, the president of the the European Parliament. Here's my first consideration: an advisory note, in itself, carries no official weight. At best, it is an opinion that will need to be validated by the official body whose job it is to decide on such matters, when the time comes. It's most definitely not the job of the President of the Parliament, an office which Tajani will almost certainly have to give up after the elections.
So there are a handful of preliminary issues that we should consider. Firstly, as explained in Article 3 of the European Parliament's Rules of Procedure, one becomes an MEP once Spain has notified "the full results of the election". This means that they must notify how many votes each slate has received and, therefore, who has been elected to parliament. No discretion or choice is applicable. The European Parliament's "responsible committee" will then validate the candidates.
Secondly, the only condition set by the European Parliament —as you can read, if you like, in article 2 of the Rules of Procedure— is that the newly elected representative must sign a written statement declaring that they do not hold any office incompatible with that of Member of the European Parliament. Furthermore, the Rules clearly state that "until such time as Members' credentials have been verified or a ruling has been given on any dispute, and provided that they have previously signed the above-mentioned written declaration, they shall take their seat in Parliament and on its bodies and shall enjoy all the rights attaching thereto".
And here's where the real fun begins. I cannot upload the whole note because I do not have a physical copy of it, but I can post a few screenshots that I took. Read what the note says in sections 5 and 6, about what Spain is doing: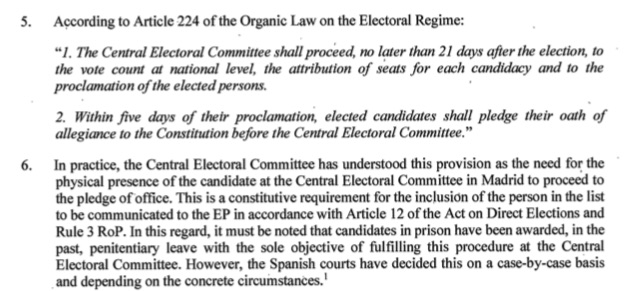 The note states that Spain's Central Electoral Committee expects newly-elected lawmakers to pledge their oath of allegiance to the constitution within five days of their proclamation. And it goes on to say that the Committee understands that this needs this to be done physically in Madrid. But right after that, in point 7, there is a reminder that once the list of elected MEP has been communicated to the European Parliament, the general conditions and procedures are what I explained earlier, as included in the document of incompatibilities, which states that this can be done in the European Parliament's premises in Brussels.
Here it is: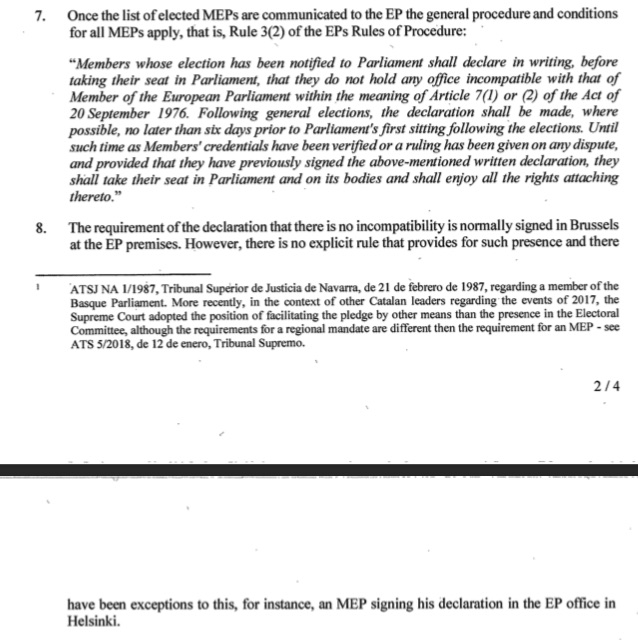 Now that is out of the way, there remains the matter of immunity, where the note is at pains to create confusion between being an MEP and having immunity, which are two different processes. I won't go into detail so as not to create more confusion myself, but I will show you another particularly interesting paragraph. The note acknowledges that an MEP cannot be arrested in Spain for as long as they continue to be a member of parliament. Furthermore, it indicates that the beginning of their mandate is set at the constitutive session [of the newly elected parliament], whereas immunity prerogatives take effect as soon as candidates are proclaimed elected.
Here's the screenshot:

Now be logical. I'm not asking you to take a leap of faith, only that you use logic. On Day 1, Spain proclaims the candidates that have been elected. They then have up to five days to travel to Madrid and pledge their oath. These MEPs have already been proclaimed; otherwise they wouldn't have been given a five-day limit. The same note (point 18) acknowledges that —in accordance with Spanish law— the prerogatives of MEPs, including immunity from arrest, are effective as soon as they are proclaimed elected representatives. Think about it for a minute. If they are proclaimed on Day 1 in accordance with Spanish law and the note acknowledges that they have immunity from that point onwards and the European Parliament requires nothing else of them, how could you possibly explain that Spain might violate their immunity five days later when they turn up to collect a sheet of paper?
Just to be clear: you will have read in section 6 of the note that you are required to take an oath before you may be added to the list of MEPs. However, you should remember —as I've just explained— that this defies any logic because the list of MEPs will have been released five days earlier, at the very least. And please do not forget the aim of the note and the leak: to create confusion.
I realise you might be wondering how, then, is it possible that so many news outlets have parroted the mantra that Puigdemont wouldn't have immunity as if it were an unquestionable truth and, therefore, he would never become an MEP. If anything, you might wonder why they've had no doubts, considering the glaring contradictions in the argument. Well, I am sorry to put it this way: there is little actual reporting and plenty of political spin in this news story. And, make no mistake: it is much easier to utter an emphatic sentence without taking the time to check anything than to have to sift through all the finer details. Even if the whole thing bears little resemblance with reality.
Yet the politically remarkable fact is that Carles Puigdemont is becoming a European figure that is putting into question two great myths that are up for debate: the myth of Spain's political transition [following General Franco's death] and the myth of a European Union understood as a space where freedom and democracy for all reign supreme. That's why the Spanish regime and the individuals at the top of this EU, which presents such serious democratic deficits, have a shared goal: to drive Carles Puigdemont into a corner.
Nevertheless, they are facing two major problems in their endeavour. Firstly, in order to harm a single person it is nearly impossible to disregard all the shared legislation that makes European elections possible. Secondly, ballots are very difficult to question. Funnily enough, the note that has been leaked starts by explaining that Carles Puigdemont cannot be prevented from running in the European elections (his name is not mentioned as such, but we can only assume it is him). And it's rather revealing that the note should start with this observation while the leakers and the recipients choose to keep quiet about it. In these circumstances, it is obvious that the more votes Puigdemont gets, the harder it will be to explain what they intend to achieve. And this is the fact that I find most puzzling. You get the impression that they are so nervous, that they are unintentionally boosting the Catalan leader's election campaign for nothing. At this rate Puigdemont will not need to go on the campaign trail. I honestly can't understand how they could possibly lack the intelligence not to see it.