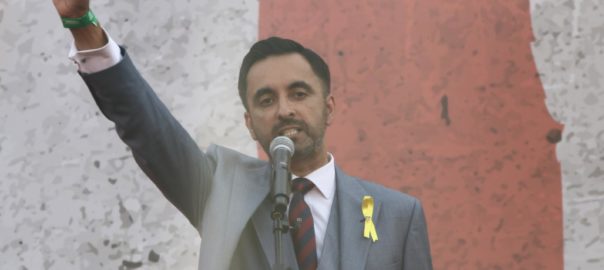 One of the images that the massive rally on September 11 left us with was that of Aamer Anwar raising his fist and saying to the crowd: 'You will never walk alone!' Anwar delivered one of the most powerful speeches of the Diada (Catalonia's National Day). Catalan minister Clara Ponsatí's Scottish lawyer has ​​achieved enormous popularity, as have other colleagues of his that have managed to bring the repressive machinery of Spanish justice up against the common sense that some European judges have applied. This is a case of political persecution, says Anwar, and that is why it must be fought both legally and politically. If everything is left in the hands of legal proceedings we will be lost, he adds. And he asks Catalan politicians to make courageous decisions. Otherwise Spain will achieve what it intends for us: that we wait, and wait, and wait….
— How did you feel on the stage of the Diada in front of that crowd?
— Climbing up on that stage made me feel humble. I wanted to cry. It was an incredible feeling, knowing that there were a million people, and seeing joy and hope in people's faces. I was very honored when they asked me to be there as Clara Ponsatí's lawyer to kick off the speeches. I had never had an experience like that. I did not speak about only exiles or political prisoners, because it is a case that affects everyone. There are thousands of people affected by what happened; there are people who have lost their jobs, who are being investigated. What did I feel? I don't know how to explain it. I felt that I was about to cry, to cry out of joy for seeing those people.
—Why do you think the lawyers have such a high—profile role?
— In a reception President Torra quipped that we were as famous as Messi and more popular than politicians. And I think the reason is that the fight is not only in the courtroom; if that were the case, we would lose the battle. The Spanish judicial system is vindictive and acts with political motivation, and there is a political persecution in progress. And if you want to fight against political persecution it means that you have to do it politically, and you have to campaign outside the courtroom, in the streets, and connect with the hearts and minds of the people. And not only of the supporters of independence. In Scotland we did this. It's also about winning over the people for whom independence doesn't matter. Because it is a question of justice. I was very aware, when I agreed on the strategy with Clara, that it would not be just about having a strategy in Scotland. It is about creating confidence in the other political exiles, in those in prison, and especially in the people of Catalonia, to say that you are not alone. And that's why in the Diada I said that you will never walk alone. And I think that this happens because people realize that when lawyers speak, our message reaches millions of people from all over Catalonia, and also the world. You do not speak only for your client, but for all people who experience the same emotion, the same anger, the same injustice. Spanish judges are very politicized and the strategy that Spain has followed is a political persecution to eliminate Catalans' craving for independence. That is why people have been arrested, exiled, and are in jail today.
—'Franco would be proud of contemporary Spain,' you said in your address.
— Franco would be happy with the actions of Rajoy, with those people who make the fascist salute in uniform, with what these judges do, with the actions of the Socialist PM Pedro Sánchez, who is not really a socialist, if there are political prisoners. For me, Franco is dictating from the grave. There is a veneer of democracy, but underneath is the apparatus of the state, the machinery that has more to do with what Franco left behind. And when aspects such as democracy come up, the independence of Catalonia, Spain does not allow it, it ensures that it will not happen. Franco has long been dead, but we still see his legacy because we see well positioned people, in places close to the monarchy, judicial power, law enforcement, making sure that Franco's dream, or his ideas, live on. In Scotland, at least people could decide, yes or no. And when we see this response against people who demand the exercise of a fundamental right, a legal right, to decide on independence, which is a right enshrined in international law … It is a fascist response, of the extreme right, abusive, xenophobic. I see it in social networks, in the media, in television interviews, in newspaper articles.
— And the president of the Spanish judiciary, Carlos Lesmes, comes out to slam European justice.
— I am sure the argument is that Spain is right and that everyone else is wrong, that the extradition treaties do not work. It is a very dangerous time for Spain. When the judiciary speaks out against the European arrest warrant, against the European Union and the European Convention on Human Rights, what do they want? Do they want Spain to leave? Do they want to return to the dark days of the Franco regime? Is everyone completely wrong? Are the courts in Brussels and Germany wrong? Judges should not interfere with the political system. Judges who voice their views in public should raise concern in a democratic system. We would never entertain the notion that the president of our courts might call a press conference and criticize other countries. In a courtroom hearing on the extradition of Ponsatí, we would have shown these statements, because they demonstrate there is a political motivation behind this case. And that there is no independence, and they have already found them all guilty before going to trial. During my life as a lawyer I have never seen the justice of other countries' legal systems attacked repeatedly in this way by a European country.
— As lawyers, how can you make them pay for these abuses of Spanish justice?
— We are at the tip of the iceberg. In Scotland there were people who naively said that we had won. We have not won anything. Because, as fas as I am concerned as a lawyer, Clara Ponsatí is still an exile. If they do not withdraw the arrest warrant in Spain, she will have to spend twenty years until she can return to their country. She cannot go back to Barcelona, ​​she cannot go and see her family. On the other hand, there are people still in prison. The right to a fair trial cannot be guaranteed; the accusation is politically motivated and they will be convicted, sentenced to prison. And the people's right to decide if they want Catalonia to be independent has not been recognized. With all this, it's clear that the battle has just begun. And I have said it to most Catalan MPs with whom I met, and with the president's team: I think that Spain has set a trap for Catalonia.
— A trap?
—To me Spain has a similar past to that of the United Kingdom. Because the British also had an empire. And the colonial power's policy was always to divide and rule: to conquer India by dividing the population, Muslims, Sikhs, Hindus … They did this in Africa, and Spain also did this in Latin America. And that is what they have done. When they say they wanted to behead the Catalan government, to liquidate it, they meant decapitating the Catalan people and silencing any voice that spoke favorably. They have done a very good job this time setting this trap. Because everything is focused on what should be done in the trial, with the exiles. And meanwhile nobody cares about what happens in the country. They transferred the prisoners to Catalonia. And when you say, for example, 'freedom for political prisoners', Spain can tell you: you have the keys. Prison officers take orders from the Catalan authorities. There are two options, really. One is to release the prisoners and wait for the consequences, which will probably be the liquidation of self-government. Or achieve independence. There is a third option, which is understandable, because people are worried about whether Spain will listen to them, if they will allow a referendum, if they will negotiate … Spain wants this, because it is a stalling tactic. Wait for the verdicts…. Why wait for the rulings, if we do not accept the Spanish judicial system? If we do not seek permission from Spain, why do we wait for a decision? This is a trap. Because if the Catalan government decided to release the prisoners, it is clear that there would be consequences. And if it made progress towards independence, it is clear that there would be consequences. The point is that Spain does not think that anything will happen, and that it can hold on another year, two years, three years more… And this process is what all colonial regimes have done: divide and rule. I see how supporters of independence fight when I read the newspapers: people are arguing, saying that this should be done, or that should be done … The united front begins to crack, and this is a deliberate tactic of Spain, which wants to postpone, postpone, and postpone.
—There was even some enthusiasm for Pedro Sánchez.
— It makes no difference whether they are left-wing or right: when it comes to the Catalan question, they follow the steps laid out by Franco, and the unity of Spain takes precedence. And these conditions can only be changed by the Catalans. This means that politicians must take steps that have consequences. There is no other option. There is no country in the world that has done it easily. People have always had to fight. For me, the mandate for political parties, the government, or the parliament should not come from Spain. Spain should not be asked for permission. The permission must come from the people, from the power of the people. All those people at the Diada did not want to express themselves and then just go home. They want something to happen. I perceived it in the crowd. They want to go a step further, they do not want to be stuck in the same situation.
— The trials will soon begin. Once a verdict is handed down, what can be done judicially for prisoners, apart from what might be done politically?
— You cannot separate the political question from the legal issue. Because justice in this country is political. There are people who expect the trial to begin and then deploy a strategy. But if they wait for the trial to begin, it will be too late. The responsibility does not lie with the lawyers. If you are expecting a guilty verdict, how will you fight? About the European Court of Human Rights I am worried that, although it is true that we have a good case to bring there, there will be two, three, four years of judicial mess. And what will happen in the meantime in Catalonia? People will ask: and what about us? It must be a combination of work in court and politics. That's why the strategy deployed by Gonzalo Boye has been immense. He is a man of great courage. And he knows how to see when a state is belligerent and when the lawyers are the last line of defense between the state and the people. That's why they are now attacking Gonzalo Boye; some attacks even come from the Bar Association and media. Whatever next? Throw him in prison? It is a very dangerous time. Spain must decide whether it will enter the 21st century as a democracy or instead be remembered as the Franco-ist state of the 21st century. It is a dangerous time because any delay is a delay for Catalonia, for the political prisoners, and for exiles. Focusing only of the legal proceedings means giving Spain more time.
—And what can the political leaders do, then?
—They have to make courageous decisions that will bring consequences. I fully understand what it would mean to let the prisoners go, which might lead to the closure of the parliament. But sometimes you have to make decisions on behalf of justice that have consequences.
—Are you saying that the Catalan government should do this, should release the prisoners?
—It's complicated for the Catalan government, because you say 'freedom for political prisoners' and at the same time you have the keys to their cells.
—Would it be a good decision?
—If the parliament, if the Catalan government with a popular mandate for independence believes that Spain is wrong, if it believes it is criminal to have political prisoners locked away… if you believe this, there is no need to ask if the prisoners should be released. You've already got the answer. Who can negotiate with the state when people are imprisoned? It is impossible. It is a form of state terrorism, it is blackmail. The question is how long will people wait? Will they wait until November? Wait until the trial? Wait until we have a verdict? Until next year? Two years from now? This is what Spain wants: for you to wait.
Ajuda VilaWeb
Ajuda la premsa lliure
VilaWeb sempre parla clar, i això molesta. Ho fem perquè sempre ho hem fet, d'ençà del 1995, però també gràcies al fet que la nostra feina com a periodistes és
protegida
pels més de 20.000 lectors que han decidit d'ajudar-nos voluntàriament.
Gràcies a ells podem oferir els nostres continguts en obert per a tothom.
Ens ajudes tu també a ser més forts i arribar a més gent?