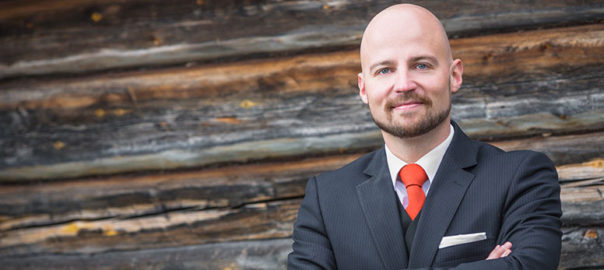 Mikko Kärnä (Espoo, 1980) describes himself as defender of Lapland and Catalonia. He has raised the Catalan issue both in the Finnish Parliament and with the Finnish government. He organised the visit of Catalan President Carles Puigdemont to Finland in March and he has launched very successful popular campaigns. Kärnä was an MP in the Finnish Parliament until very recently and is also the former mayor of the city of Enontekiö. He belongs to the Centre Party, the political party currently governing Finland. We interview him shortly after he returned back home from his first trip to Catalonia, that could be followed almost live via Twitter under the hashtag "MikkoInCatalonia".
– What is your main impression after your recent first trip to Catalonia?
– Reception was fantastic and I have been overwhelmed by hospitality here. It was also strange to see how well people know me here. It was impossible to leave from public events without a 30 minutes "selfie session"!
– Before your arrival, you tweeted that you were travelling to the Republic of Catalonia. How far are we still of a true Republic of Catalonia?
– You are on the right path, but to really be recognised as a state, Catalonia has to have the markings of an independent state. It has to show that it has its own institutions and that it can protect them. There is still much to debatel. What will be the defence policy? Are you trying to go to NATO or will you have conscripiton like we have in Finland? How do you protect your borders? What about the economic system and the currency?
– How did you get involved in the Catalan cause?
– I have been observing the situation for a while, but became more active at the end of last August. As a Finn, it is easy to relate to Catalonia as we were also an autonomous region under Russian Empire before World War I and before our independence. I defend Catalonia as I defend Lapland. Finland and all other small nations must protect even more fundamental EU values such as democracy, human rights and subsidiarity.
– What is the price for your engagement? France warned you that the Spanish intelligence was following you in Paris after meeting president Puigdemont…
– I received many threats, my phone was destroyed in Paris and the Spanish ambassador in Finland has filed complaints many times. He has complained about me to the Parliament, to the Foreign Ministry and to the Prime Minister's Cabinet. In fact, he has been complaining so much, that I don't think anybody listens to him anymore.
– How is your current relation to him?
– Since Spanish ambassador Manuel Camaro Hermosa threatened me and Finland in an email and I published it, I haven't heard of him any more. I have been trying to contact him, but he has not replied.
– How would you describe Spanish democracy?
– Democracy in Spain is in crisis and they have lost the vision of it. Democracy is about the ability to negotiate and compromise. That is not the situation in Spain. Last year Spain imprisoned more artists than China or Iran and its freedom of speech and expression are endangered. Separation of powers seems not to work. Foreign minister Borrell contacted Belgium and asked politicians to defend judge Llarena in a Belgian court. This is a clear evidence that Spain does not understand what separation of powers means.
– How is it possible that a EU member like Spain breaches so many EU values, including civil and human rights, without any significant reaction from other member states?
– Spain is a big economic power and it has silenced many countries by threats or rewards for their silence. It is terrible. But I believe that this will not go on for long. I am relying on Amnesty and current international processes. When UN and Amnesty acknowledge that there are political prisoners in Spain, things will start to happen.
– What can you tell about the mediation offer by former Finnish Prime Minister Vanhanen before the declaration of independence last October? 
– Only that he was ready to help but it takes to sides to mediate. Spain refused.
– How do you expect the tension between Catalonia and Spain will evolve during the following months? Do you expect any signs of dalogue or negotiation from the new socialist Government in Madrid?
– It is of course positive. Prime Minister Pedro Sánchez has now said that the crisis in Catalonia needs a political solution after meeting with Catalan President Torra. I am not very optimistic but I hope to be wrong. Spain must sit to the negotiaton table with Catalonia without any preconditions and it has to acknowledge that  Catalonia has the right to self-determination. But most importantly, Spain has to release political prisoners which are now kept as hostages and allow a safe return to those who are in exile. That should be their first move.