23.04.2020 - 08:49
|
Actualització: 23.04.2020 - 10:49
Some people say the world belongs to the brave. It also belongs to entrepreneurs like Doug Suttle, who landed in Catalonia ten years ago from London and has now decided to start publishing Catalan literature in English. After thinking about it for a long time, a few months ago this teacher and translator decided to launch Fum d'Estampa Press, a publishing house based in Vilafranca del Penedès, south of Barcelona, that prints in the south of England and stores books in Scotland. Editorial globalization. This year, it will publish six titles, carefully designed, with print and ebook versions and prestigious translators behind the texts. The first published Catalan authors are Jordi Llavina, Narcís Oller, Joan Maragall and Ferran Soldevila, but the intention is for the list to be very long.
– I can think of better forms of getting rich than publishing Catalan literature in English…
– Well, yes… but I think that it's important to do something that you enjoy and I feel a special connection with Catalan language and literature. It's so rich and varied and I really think that there is a market out there for it. You might be surprised, but there is a growing interest in Catalan around the world. We want to bring together the two parts of the puzzle, provide the English-speaking world with beautiful poetry and great stories, while promoting Catalan language and literature. But you're right. As my dad told me when I first mentioned the project to him: 'The best way of making a small fortune is to start with a big one and open a publishing house!' We're confident that it'll work out, though.
– This is of course great news for Catalan literature. How well (or bad) known is Catalan literature abroad according to you?
– I think that the language itself is getting more widely known. But it's a very slow process. Of course, there have been Catalan university professors in the UK since the early to mid 20th century, but it has always been quite a small group of people. As a language, I think that it's always suffered in popularity due to it being wedged between Spanish and French and, of course, due to certain political situations. As I said, things are beginning to change and the Institut Ramon Llull are doing some great things. Likewise, the Anglo-Catalan Society and its American counterpart, NACS. In terms of the literature, those in the know have long written about people like Ramon Llull, but it's a difficult market and there are a lot of authors out there. Our objective is to bring what we think are great stories and literature to the English-speaking world and let the readers decide for themselves.
– Will you cooperate with the Catalan culture Institut Ramon Llull (or viceversa)?
– Yes, for a small press like ourselves, cooperation with the Llull Institute is vital. Their grants, etc., are important for promoting the books, but it's also a great source of inspiration and advice. They are all passionate about Catalan literature and so it's great to be able to have them on our side. They have offices around the world and so of course we're speaking with them, not only in Barcelona, but also in London and New York.
– What is your connection to Catalonia?
– My main connection to Catalonia is that I live here! I came from London to live here about 10 years ago and fell in love with the language, culture and country. It's a very special place. Falling in love with a Catalan girl just made the connection even stronger!
– You are a translator for various publishing houses. Will you translate the books you publish?
– The idea is to work with many different translators to publish their work at Fum d'Estampa Press. We are lucky to be able to work with some really big names in the business such as Alan Yates, Ronald Puppo, Louise Johnson and Peter Bush so I'm kept pretty busy managing that! That said, I really enjoy translating and so I hope to be able to publish one or two of my own translations. Jordi Llavina is a good friend of mine, so I like to translate his poetry and we've just published his Poetry & Prose collection of The Hermitage and The Pomegranate Tree.
– Tell us a little about the first titles in your catalogue, please. What kind of books are you after? I see there is a preference for Jordi Llavina and Narcís Oller?
– I wouldn't say that there's a preference, but as I mentioned before Jordi and I are close friends. Narcís Oller is a big name in Catalan literature and so it made sense to launch the collection with some of his books. I also think that his books represent 19th century Catalan literature very well. This year, we'll publish these first books by Llavina and Oller, but also a wonderful collection of Joan Maragall's poetry and prose that has been edited and translated by Ronald Puppo, a professor at the Universitat de Vic. 2021 will see us spread our wings even further with some great titles by Villalonga, Llull, Larios, Arquimbau, D'Olwer and Jaume Subirana. We are open to all Catalan language books, but we look for ones that inspire the reader, provide them with new perspectives and that also represent Catalonia and the Catalan Countries. We want stories and insights that stand well on their own, of course, but that also provide insights into Catalan life and culture. But most of all, they have to be fantastic stories or poems, beautifully written, that inspire our readers. We're lucky in the sense that there are lots of these kinds of books written in Catalan!
– How many books do you plan to publish every year?
– In 2020 we will publish the 6 books that I've already mentioned. The idea was to publish 6 every year, 1 every two months. That said, the reaction from the writers and translators, our distribution and sales network and readers around the world has meant that we've already had to revise this plan. I think that next year we'll publish around 10, and 2022 seems to be even busier.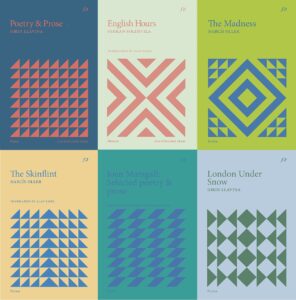 – The books' covers are an eye-catcher. Where did you get the idea from?
– One of the first things that we did was to get Rai Benach on board with project. Rai is a designer based in Vilafranca del Penedès who works with various design studios. We met one afternoon for a coffee and I explained the project to him. We were very lucky in the sense that he understood immediately what we were looking for and he came up with the cover design. Apart from the font, etc., the cover design itself is based on the rajola catalana. We've had great feedback so far on the design and it works really well for illustrating what we are trying to achieve.
– Will there always be print and ebook copies available of each title?
– Yes, another key member of the project is Liz Castro. She is an expert in ebooks and is helping us provide each title in both print and ebook versions. You can find the ebooks on the same page as the print books on our on-line shop at our website and, of course, on Amazon and websites like that. Again, we've had some great feedback from readers about the format and design of the ebooks and it's great because we can offer the ebooks in both epub and kindle formats, which is nice.
– How is the present Covid-19 pandemic affecting you? Any plans for Sant Jordi?
– Of course, the current situation is very difficult for everyone. In the UK, all bookshops are closed for the foreseeable future and this has meant that we've had to react quickly and start to look for other options such as online sales through our website. UK bookshops aren't as lucky as the Catalan ones. Here there's the www.llibreriesobertes.cat which is a great life line for the bookshops and you can find our books there, too. Apart from that, I think we're going to have to start looking at our publishing programme but at the moment everything is going to plan. I think that, like the vast majority of businesses at the moment, we're just going to have to play it by ear. In terms of Sant Jordi, well, it's a great shame that it's been postponed but we're very excited to be taking part in an online Sant Jordi celebration in New York. The website is www.santjordinyc.org and you can go there to see video and phone conversations with our translators and writers. That's really exciting and it's great to see that the spirit of Sant Jordi lives on even in these difficult times.
– You are distributing from the UK, right? Where do you print the books?
– Yes, we are. Of course, our books are in English and so the UK, Ireland and other English-speaking countries are our main markets. That's the main reason we print down in the south of England and have warehousing up in Scotland. It works well for us. The idea is to ship some 300 copies of each title over to Catalonia to fulfill orders and sell into bookshops, schools and universities here but, hey, if we need to ship more over, then that would be a great 'problem' to have! Who knows, if demand here goes up, we might start printing here, too.
– Last but not least, why Fum d'Estampa? To awaken curiosity among English speakers?
– Good question! Yes, I think that it's a name that nicely represents what we are all about. It piques the interest of English-speaking people, is related to the printing process and is different enough that it is memorable!