---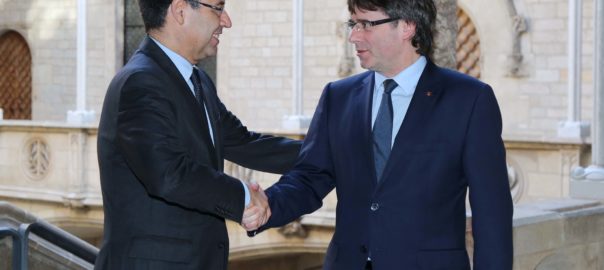 El President de la Generalitat s'ha reunit amb el President del Futbol Club Barcelona, Josep Mari Bartomeu, el 30 de març del 2016.
The major Spanish police operation against the October 1 referendum has received criticism not only from many political leaders and citizens in Catalonia, but also from some organizations such as FC Barcelona.
The world-famous football club said that it is committed to 'the defense of the [Catalan] nation, to democracy, to freedom of speech, and to self-determination'. Therefore, it 'condemns any act that may impede the free exercise of these rights.'
In a statement today, the club said it 'publicly expresses its support for all people, entities, and institutions that work to guarantee these rights.' Additionally, FC Barcelona stated that 'it will continue to support the will of the majority of Catalan people, and will do so in a civil, peaceful and exemplary way'.
University chancellors condemn the 'threatening episodes to freedom of speech'
The club is not the only major organization in the country reacting to today's raids in several Catalan government buildings. Also in a statement, all Catalan public university chancellors "condemn the threatening actions toward freedom of speech" of the past few days regarding the Spanish police raids.
Catalan trade unions against Spanish State "disproportionate aggression"
Meanwhile, the secretary generals of the Catalan branches of the two main trade unions in Spain referred to today's anti-referendum operation as a 'disproportionate aggression' and called to 'defend the institutions.' The leader of UGT, Camil Ros, and the leader of CCOO, Javier Pacheco, met with Catalan president Carles Puigdemont to discuss the most recent events, which they labelled as a 'hidden application of the article 155' (an article in the Spanish constitution that envisions the suspension of a region's self-government).
'Today, we have to defend dialogue and negotiation, because it is the only way out of the current political problems,' Ros said. Pacheco said that Spanish president Mariano Rajoy has proven he is unfit to find a political solution.
[VilaWeb no és com els altres. Fer un diari compromès i de qualitat té un cost alt i només amb el vostre suport econòmic podrem continuar creixent. Cliqueu aquí.]