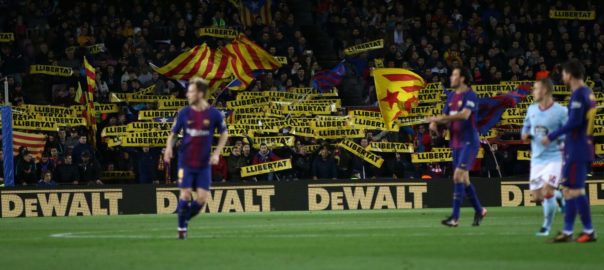 Picture: Albert Salamé
Marc Duch has been one of the most vocal and visible critics of the previous president and board of FC Barcelona. As president of Manifest Blaugrana, a Barça supporters association, he was one of the leading figures in the campaign to remove Josep Maria Bartomeu as president of the club.
Together with other fan associations and linking up with three pre-candidates to succeed Bartomeu at the helm, he launched, in part, the 'Més que una moció' initiative, a play on words of FC Barcelona's famous club motto, that ultimately led to Bartomeu resigning from his post before a referendum could be held.
The now-former president stepped down in October, and Duch believes that the next president, whoever he is, needs to return the essence of that motto – 'more than a club' – back to the club.
Financial losses and debts
Bartomeu left the club with massive debts and the most recent accounts unveiled in October shows that the club made a €97 million loss on the last year, although with much of that down to the effects of the pandemic.
Duch explains in an interview with Catalan News that Manifest Blaugrana have been "seeking some accountability from the board of the club" ever since their inception, and "informing people that things were not done properly, that numbers were not going as well as [the board] told, that the first team squad was quite limited." As such they felt the need to "take part in the business and remove the board because it was pretty clear they were not capable of managing the club," Duch says.
In particular, the Manifest Blaugrana president took issue with the management of finances, and the management of the "institution" of FC Barcelona. Between signing players with transfer fees and offering contracts on high salaries, "far above their market value" in each case, Duch believes that Bartomeu's board were unable to control the finances of the club. "You cannot be spending money as happily as they were. They had no sporting direction, they were just signing here or there with no sense at all."
16 trophies during six-year spell
Bartomeu will point to the number of titles that the club won under his guidance as proof of his success. The men's senior team claimed 16 trophies during his six-year spell in charge, while the women's team have grown into one of the best teams in Europe during that time. Counting the club's other professional divisions, including basketball, roller hockey, and handball, his presidency brought in more trophies than any other previous holder of the office – 115.
Duch acknowledges this success but argues that the trophy count is not all that matters for a club like Barcelona, one that aims to play an active and leading role in the community. "Of course, he can go home and say 'I've been quite successful because I've got a lot of trophies' – yes you can, but you left the club in 800 million debt, in a totally weak position in the market," Duch points out. "We are really close to being in a big problem because we have to pay salaries in January and we have nothing in the bank. So you won trophies, but at what price? At what cost?"
Taking care of the 'institution'
Besides that, he accuses the previous board of failing to take care of the "institution" itself. "You are FC Barcelona, you are a reference in the world, the spotlight is on you so you have to take care of what people think about you." "There are many decisions across the past few years that were controversial, such as signing Neymar, with the trial, not paying the taxes as they should have been paid, signing children for the academy in irregular conditions. Many things were not done as the institution deserves."
The president that preceded Bartomeu, Sandro Rosell, ended up in a high-profile court case over payment irregularities surrounding the transfer of Neymar from Santos, though he was eventually found not guilty. Bartomeu was one of Rosell's closest confidants, and took over when Rosell decided to step down with the court case looming, in order to separate the case from the club presidency.
Controversy and scandals
Throughout his time at the helm, controversy and scandal seemed to follow Bartomeu at every turn. These problems came to a head during his final year in charge with 'Barçagate' being only one of the leading issues that caused fury among fans and players. In April, it was revealed that the club had hired a social media company to reportedly publish negative stories about perceived enemies of the president, including current players and former icons of the club, and positive stories boosting the reputation of Bartomeu.
Duch says, "I think it was probably the first time in history a club got involved in something like that. It was totally crazy to have your own club being monitored by some company in Uruguay to throw shit – and pardon the word – but it was just crazy to pay someone to say bad things on social networks about your own players."
A couple of months later, numerous trusted board members resigned from their posts, citing a lack of faith in the management of the club, with Barçagate being just one of the examples given. The payments to the company for these services were staggered in a way that each payment fell below the threshold amount that needed to be approved by the board. As such, it was kept hidden from most of the club hierarchy and the public.
Duch slams this episode as "absolute mismanagement," while also warning of potentially worse aspects of this story and perhaps others that could yet be to come to light. "We know the tip of the iceberg, and we are quite afraid of what we can discover when a new board gets in. If you have internal protocols to hire some kind of services, you cannot just bypass them." "You're managing my money, the socis' (members') money. Once you treat your own socis like they are stupid, that's when people get angry."
Moving forward
Marc Duch has no intention of either standing for the presidency himself, or backing any particular candidate, at least for the moment. Elections are already set for January 24, and the new board has a multitude of issues to fix. Yet, Duch believes that whoever the new president is, the most important thing for them is to "return the club to the owners," as in, the fans. "We have to take part in the day-by-day activities, we have to be part of the club, we need to participate in the club's activities, return to the 'més que un club' model.
But what exactly does it mean to return to the famous motto of the club? "We are more than a club, so we need to become and perform as more than a club," Duch says. "We need to do things beyond what a standard club does, taking care of your community, taking care of your socis, do things on behalf of the and in benefit of the community, represent the people of Catalonia wherever you go." "We have to take those steps because they're required and they belong to the main essence of the club, that's what the new president should focus on."
Ajuda VilaWeb
Ajuda la premsa lliure
VilaWeb sempre parla clar, i això molesta. Ho fem perquè sempre ho hem fet, d'ençà del 1995, però també gràcies al fet que la nostra feina com a periodistes és
protegida
pels més de 20.000 lectors que han decidit d'ajudar-nos voluntàriament.
Gràcies a ells podem oferir els nostres continguts en obert per a tothom.
Ens ajudes tu també a ser més forts i arribar a més gent?