08.01.2021 - 10:38
|
Actualització: 08.01.2021 - 11:38
Catalan literature enjoys the good fortune of having, in addition to great writers, great translators. Excellent translations of classic and contemporary Catalan authors have been appearing in the world's major languages for many years now. The most widely translated title is La plaça del Diamant, with 37 translations. Translators with a love for Catalan language and literature can be found spanning the globe, and despite the support and hard work of the Institut Ramon Llull in promoting these translations, they know their labour will never make them rich. Still, they are adamant in labouring for love, and like Ronald Puppo, "filling in the yawning gaps." Born in San Francisco, he landed in Barcelona in 1979 and has for many years been happily settled in a small town in the northern part of Catalonia and teaching at the University of Vic. His most recent translation is a collection of poetry and prose by Joan Maragall, One Day of Life is Life, published by Fum d'Estampa.
– From San Francisco to Vic. Do these two cities have anything in common?
– Both cities are special, with a strong commitment to moving ahead with artistic and literary culture, powering up cultural production and dissemination.
– What are your memories of California in the '70s? Hippies everywhere?
– By the seventies the hippies had already opened the way, leaving their stamp on the styles and values that succeeded them. I was just a boy when the movement was going strong.
– Was it at the Université de Grenoble that you discovered Catalan? Who or what called your attention to it?
– I studied in Grenoble, but it was in Barcelona that I found out about Catalonia and Catalan. I had the good luck of making the acquaintance of some people who were culturally active. Thanks to this, I saw that here was a country that wasn't on the maps.
– Do you think that now it's on the maps?
– The maps continue telling lies even today, or only a partial, imposed truth. As Joan Maragall put it in one of his writings, the most natural borders are the ones that result from the human geography.
– And you decide to come to Barcelona in 1979, then study philosophy at the Universitat Autònoma de Barcelona. Why?
– I came to Barcelona in 1979 to learn Catalan. I stayed, and a few years later, in '82, I started philosophy at the UAB. I had already done my degree in French and English Literature, and I wanted some grounding in philosophy to round out my education in language and literature.
– What about the leap from philosophy to translation?
– By way of language itself. The poet and thinker Lluís Solà, from Vic, puts it nicely: language is the substance of our living, and living together. If time and space are the Kantian forms of sensible intuition, it is language (Ramon Llull's sixth sense) that makes possible our interpersonal and social experience.
– You begin with Verdaguer and Canigó, no small undertaking…
– I took on a big challenge, yes, but the poem's strength and beauty, not to mention the very mountain's, guide you down translation's road despite the enormity of the task, a good part of which is revising and revising, then revising some more.
– You presented Selected Poems of Jacint Verdaguer at the Frankfurt Book Fair in 2007. How did it go?
– Fortunately, we had solid support from the Institut Ramon Llull and the International Federation of Translators, who organized a bilingual recital of Verdaguer poems with Enric Casasses reading the Catalan. It was a real privilege, and held at the Lesezelt (Reading Tent) at the Frankfurt Book Fair.
– You have also translated Carner, Garcés and Salvat-Papasseit. Am I leaving anyone out before Maragall?
– These were more or less one-off translations. I devoted a bit more time to translating a number of poems from Pell d'ànima by Josep Checa.
– And now Joan Maragall in translations that your publisher has called "extraordinary." What are the challenges in translating Maragall?
– More than anything else, listening to Maragall's voice, conveyed by his twofold gaze: inward, into the soul, and outward, into the troubled society of his day.
– Among the abundant praise I've read about your translations, there is often mention of rigour and love.
– I might add inspiration, but the thing is, as we say in English, it's often a matter of more perspiration than inspiration.
– Perspiration?
– Yes, making the effort.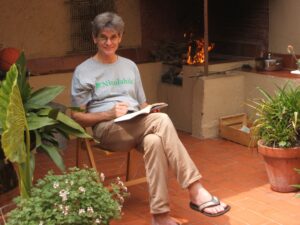 – Could you explain briefly how you work and what tools you use? Dictionaries? Automatic translation?
– Dictionaries, naturally, especially monolingual, such as the Diccionari Català Valencià Balear, and even, in the case of Verdaguer, the Labèrnia dictionary of the nineteenth century. Still, dictionaries often fall short of the mark, and you are surprised to find a good number of solutions come from correspondences, some of them subtle ones, with literary works in the recipient language.
– So what do you do when you get stuck?
– Mull it over because dictionaries don't always give you the solution you're looking for. For example, Maragall's Cow Gone Blind has a film in one eye. How could I put this in English? "Film" seemed to me to fall a bit short. At the time, I was rereading Truman Capote's Breakfast at Tiffany's and in the book, but not the movie, the cat had only one good eye. Capote describes the cat as being "gluey-blind" in one eye, as if covered in glue, so I decided to lift this and use it because it worked for me. This happens rather often. When I was translating Canigó, for example, English-language epics helped me come up with any number of solutions.
– You hear people say that the translator's work is not very creative, nor very well paid. Can you prove this wrong?
– I earn my living as a teacher, not a translator. In any event, as renowned translator Peter Bush puts it: translating is writing.
– Speaking metaphorically, do you see translation more as a bridge or a mirror?
– I'd say translation, more than just communication, is encounter: an encounter with the other. It is a turn toward the other, but also a turn toward the self. Whoever reads Maragall's articles on the Tragic Week will think of the speeches and writings of Martin Luther King. He, too, sought to restore social conviviality by means of public-spirited love, Agape. So translation is both bridge and mirror.
– So it's impossible to translate from Catalan without knowing Catalonia?
– Exactly. Culture is every bit as important as language. The only exception might be Esperanto.
– You are also associate professor at the Universitat de Vic. Do you feel at home in the city of Verdaguer?
– Very, it's a great privilege!
– Are you interested in contemporary literature? Is there any poet of today that has caught your eye?
– Yes, but I feel drawn to the task, where translation is concerned, of filling in the yawning gaps that linger on out there. For this reason my current project is translating Verdaguer's L'Atlàntida (Atlantis).
– How long might such a formidable project take?
– With Canigó, working off and on it was about 10 years. Teaching demands a lot of my time, so usually it's during holidays and summers that I make any real progress. That said, I've already worked a good deal on L'Atlàntida.
– Anything else you'd like to add?
– There's a phrase about translation by Gayatri Chakravorty Spivak that I especially like: It is not bodies of meaning that are transferred in translation, but rather, it is an other that is transferred.
-Can you explain?
– Meaning that when you translate, you don't just translate particles of meaning, but rather, you bring the other into view, which is a broader endeavour.