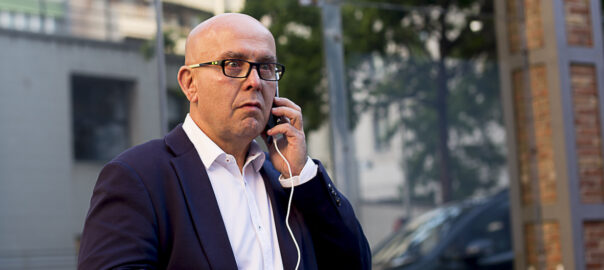 The Spanish National Court's indictment against Sito Miñanco and forty other individuals charged with attempting to smuggle drugs into Spain and devising a criminal network to launder the proceeds includes recordings of telephone conversations which undermine the charges brought against Gonzalo Boye, the lawyer who has successfully represented exiled president Carles Puigdemont since 2017. Boye is one of the defendants in this macro-trial presided over by Justice María Tardón, in which the barrister stands accused of laundering "the proceeds of drug trafficking as part of a criminal gang, as well as forging official documents". Even though these wiretaps —which this newspaper has been privy to— call into question the main argument that the judge is using against Boye, Justice Tardón does not intend to drop the charges against him.
The judge, following prosecutor Ignacio de Lucas's account of the events, accuses Boye of having devised a legal ploy to launder money allegedly obtained from drug trafficking. On 6 February 2017, the businessman Manuel González Rubio and five other individuals were arrested at Madrid airport carrying €890,000 in cash when they were about to board a flight to Colombia. According to the judge, the money belonged to José Ramón Prado Bugallo –known as Sito Miñanco–, who intended to launder it in Colombia with the help of the alleged smugglers. According to the prosecutor, after the police seized the cash in Barajas airport, Miñanco devised a means to recover it with the help of Boye and other lawyers. This involved forging documentation in order to make it look like the money was the result of legitimate business dealings, an accusation which Gonzalo Boye has always denied.
Indeed, as can be inferred from the conversations included in the case file, the money belonged to the businessman Manuel González Rubio, who is one of the individuals who was detained at the airport. In fact, González Rubio stated that it belonged to him at the time and that he intended to take it to Colombia to invest in his business, specifically to purchase a property. This in turn explains why González Rubio went to the Boye-Elbal office two days after the money was seized to enquire as to how he might get it back. He did so by providing a series of documents which throughout 2017 Boye's office submitted to SEPBLAC, the Spanish Ministry of Economy's Commission for the Prevention of Money Laundering and Monetary Offences.
The documents provided proof of the purchase and sale of bills of exchange with mortgage guarantees which had been profitable. According to SEPBLAC some of the documents contained errors, leading Boye-Elbal's office, as González Rubio's representative, to submit additional documents provided to them by their client to prove the source of the funds which had been seized. The whole process lasted until the end of 2017, when the Spanish Treasury eventually imposed a fine on González Rubio.
Throughout the whole period, these purely administrative procedures were conducted with no further attention paid to them since they had nothing to do with drug trafficking. However, in February 2018, months after Boye's legal services had been engaged by President Carles Puigdemont and the other exiled politicians, everything changed and Justice María Tardón issued arrest warrants relating to an alleged plot to smuggle large amounts of drugs into Spain. Sito Miñanco and González Rubio were two of the people arrested. At the time it transpired that the businessman stood accused of laundering the proceeds of drug trafficking relating to the €890,000 seized in Madrid a year earlier. And, as is usual in such cases, no charges were laid against his lawyer.
However, at the time, the prosecution launched an investigation into a separate case, involving the laundering of drug money which concerned Gonzalo Boye. In October 2018, the police searched his home and place of work and copied the data on his mobile phone. Boye was accused of having masterminded a plan to recover Sito Miñanco's money and in the indictment issued last month, Justice Tardón contradicted what had been previously stated, claiming that Manuel González Rubio had nothing to do with the money, that he was a mere intermediary charged with taking it to Colombia, and that the cash was the proceeds from drug trafficking and it, in fact, belonged to Miñanco.
This version of events was repeated shortly afterwards by one of González Rubio's business partners, Manuel Puentes Saavedra, in an unexpected voluntary statement before the judge in which he incriminated Boye. Puentes was released several days later.
Two months later, Boye's home was searched once again. The Spanish National Court summoned him to testify and he was released on bail. And the following year, in 2020, it was to be Manuel González Rubio himself who changed his version of the story by stating that the money did not actually belong to him.
However, the case file contains conversations recorded by the police as part of the investigation in the months following the seizure of the €890,000 in Madrid's Barajas Airport, in which González Rubio made it clear that the money belonged to him. The conversations were recorded without González Rubio's knowledge.
The first took place on 23 February 2017, two weeks after the airport seizure. González Rubio and an unnamed woman are speaking about a meeting with the lawyer concerning "the documents to get nearly everything back".
—"What's up? How did it go yesterday with the documents?".
—"Fine, fine, everything's good, perfect."
—"Great."
—"Yes, the lawyer told me we can get almost everything back, that it was sorted… that everything was in order, well prepared and that there would be no problem."
Shortly afterwards, on 26 April, González Rubio told one of his employees that he was running out of cash until he could resolve his problems with the banks and the money that had been seized.
—"The first thing I have to do is pay the salaries, and I won't have money for anything else as long as I'm so short, until I can sort out this problem with the banks and the money that's been seized, I only have money for salaries and for expenses, and not for vans or anything else."
In July, González Rubio spoke to his secretary in Colombia. At one point he tells her that it was his money which was seized and that he was taking it to Colombia:
—"Until I get back some of the money that the Treasury seized […], until they release the other funds I was taking to Colombia… as I've already told them, and everything is sorted. I hope they give it back to me. I was taking a million euros there, you know… Well, I made the stupid mistake of carrying the money on me, and I shouldn't have done it, but well, I've already proved to them where the money came from and everything, and I hope that it'll be given back to me any time now."
This last conversation, which was recorded by the police without his knowledge, clearly contradicts the statement González Rubio made before the judge in 2020, which is the sole piece of evidence in the indictment against Gonzalo Boye.
Ajuda VilaWeb
Ajuda la premsa lliure
VilaWeb sempre parla clar, i això molesta. Ho fem perquè sempre ho hem fet, d'ençà del 1995, però també gràcies al fet que la nostra feina com a periodistes és
protegida
pels més de 20.000 lectors que han decidit d'ajudar-nos voluntàriament.
Gràcies a ells podem oferir els nostres continguts en obert per a tothom.
Ens ajudes tu també a ser més forts i arribar a més gent?