25.05.2019 - 06:30
|
Actualització: 18.05.2019 - 16:22
A new football team in the UK? Nothing new under the sun, really, as there are thousands of them in the birthplace of contemporary football. But if the club is called FC Catalans and their crest depicts the silhouette of Catalonia on the red and yellow stripes of the Catalan flag, our interest automatically arises. Here is an interview with Reece Heard, vice-captain of this new team that will be playing next season in Medway, a conurbation around Kent in the south east of England.
-I'm sure 99% of Catalans can't place Medway on a map, but we have a football club named after them there! Where does this idea come from?
-The idea came about a few months ago when we decided to form a new football team. We wanted to approach it with a unique identity that isn't used by anybody else in Medway. The concept of embracing Catalonia comes from the fact that myself and our manager, James Hawkins, visit Catalonia and Barcelona specifically on occasions not only because we love the region, but also to watch as much football as possible.
-I've seen that you are quite a Barça fan. Is FC Barcelona your model?
-Barcelona without doubt are a big influence on the route we've decided to take. It's a wonderful football club that are vocally proud of being a Catalan institution. Several of the players at FC Catalans have a lot of admiration for Barça, and if we can win matches anywhere near as often as FCB do, then we'll be very happy!
-What are the dimensions of FC Catalans? How many players do you have? Do you have any members?
-With the club still in its very early days, we don't have any members so to speak. We have 19 committed players who want to be successful together, with two sponsors already on-board supporting us with our brand new kit.
-Did all players agree with the name and the "flag" choice?
-Once the name and crest were proposed, everyone quickly got behind the idea. We're proud of the crest we've created, and it's one that the whole group are happy with.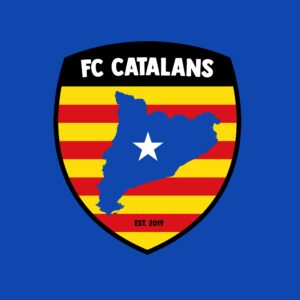 -Do you also follow the political situation in Catalonia?
-I personally do keep a close eye on the political situation across social media. With Catalonia being a place I have visited multiple times before, and will continue to visit again and again, I take great interest in all the latest news.
-How would you describe the Medway League?
-The Medway League is a competitive football structure with five divisions, and is a great platform for people young and old to enjoy playing football on a weekly basis. As we're a new team, we'll start from the lowest division next season, but of course our aim is to climb up the divisions as high as we possibly can.
-How were your results up to now?
-We've only played two friendly matches so far. We lost the first 3-0 against a very strong opponent, but won our second game 5-0 with an excellent performance, against a team who we will face again in the league next season.
-What would be your biggest dream in sports terms?
-We ultimately want to win lots of matches to climb up the divisions, and also try to win a cup competition. Taking into consideration the background of our team, we would also love to visit Catalonia as a team to play a match in the future.
-Have you received any feedback from Catalonia?
-Certainly. We have gained over 200 followers on our Twitter page in the last 48 hours, with many of those people being residents of Catalonia. We've also received plenty of messages of support, which has been both overwhelming, but also really satisfying, and will no doubt drive us on to be as successful as possible.
-Is there anything else you would like to add?
-Thank you for the opportunity to talk to you about the team and what our adventure may have in store, as a club we appreciate your time and support!